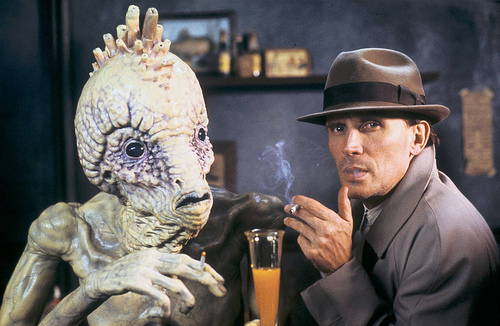 As crazy, creepy, and utterly bizarre as David Cronenberg can be, I don't think anything could have prepared me for how "out there" his 1991 film is.  He bases the film on William S. Burroughs's "unfilmable" novel, and his film looks more at the novelistic process than trying to adapt the stream-of-thought book.
Cronenberg is a fabulous director who pushes his limits like very few filmmakers working today; I'd go so far as to say he's the best Canadian director working today.  He uses a noir style to tell the tale of a writer-turned-exterminator who becomes addicted to the powder he uses to kill bugs, with murderous and outlandish consequences involving conspiracies with buglike creatures.  Words can't even really describe the film, and I'm not even sure how I feel about it.  I'm usually a big fan of Cronenberg's more bizarre works, my favorite being "Videodrome," but where that film expresses a multitude of societal ideas, "Naked Lunch" feels stuck in a vacuum.
It's a dramatic work of auteurship and I applaud Cronenberg for even *making* a film this confusing and alienating.  It's hard to enjoy "Naked Lunch" of even understand what Cronenberg is trying to do with it, which makes it harder to understand or get involved with than most of his work.  I really admire the saturation of colors, the great special effects, and the way the film developments around a writers' struggle to both write his novel and quit his addiction.
"Naked Lunch" is a film I'd both love to see again in order to try to understand it, and also a film I have no desire to watch again because of how alienating and awkward it is to stomach.  It's weird (beyond weird).